Presser




Type
Solid Block
Name
Presser
ID Name
harvestcraft:presser
Stackable
Yes (64)
The Presser is a block used to process a wide range of foods and resources.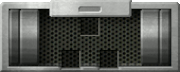 The Presser can be used to process Honeycombs, press Cooking Oil, Tofu and Sugar, make Bubbly Water out of Fresh Water, and to turn Fruit into Juice.
Place the source item in the top slot and it will create the product after a short loading period.
Presser Recipes
Edit
Version 1.11.2a - 1.11.2d may crash your game/ has been buggy when using a presser. In version 1.11.2e and newer, the Presser will not crash your game anymore and all presser recipes will always give two items (Waxcomb = 2 wax, Reeds = 2 sugar, etc)