The Pot is a reusable Cooking Utensil used when crafting dishes.
Current (1.12.1)
Edit
Historical (pre-1.12.1a)
Edit
Pot can be combined with other ingredients to create:
Ingredients
Edit
Other Non-Foods
Edit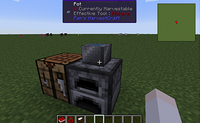 The Pot was previously made with Iron Ingots instead of Bricks. This was changed in 1.12.1a
In Version 1.7.10 a Pot could be placed on the Oven or Furnace and Right-Clicked as a crafting grid. This function has been removed in 1.9.4 and newer.