Grapes are Fruits that comes from Berry Gardens or Tropical Gardens. When eaten, it restores 1 hunger point (or 0.5 drumsticks).
Grapes can be used as they are, can used in a furnace to make Raisins.
Placing a Grape in the crafting grid gives you a Grape Seed, which can also be found by breaking Grass.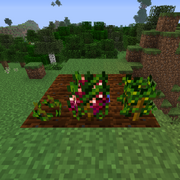 To farm the
Grapes
, you plant and grow the seeds (or the
Grapes
itself) on tilled soil, once they're fully grown you can right-click them, harvest the
Grape
and let them grow again. When harvested by right-click, the plant doesn't break, and yields 1-3
Grapes
.
Shapeless Crafting
Edit
Here are all the recipes using Grapes:
Recipes Using Raisins

| Recipe Name | Ingredients | Picture of Crafting Recipe |
| --- | --- | --- |
| Trail Mix | Roasted Nuts or Salted Sunflower Seeds + Raisins + Chocolate Bar | |
| Raisin Cookies | | |
| Walnut Raisin Bread | | |
| Spice Bun | Bakeware + Flour + Milk or Fresh Milk or Soy Milk + Ground Nutmeg + Ground Cinnamon + Raisins | |